England rugby player, Hannah Botterman, tells us about her black box policy
Sep 23 2019 12:00AM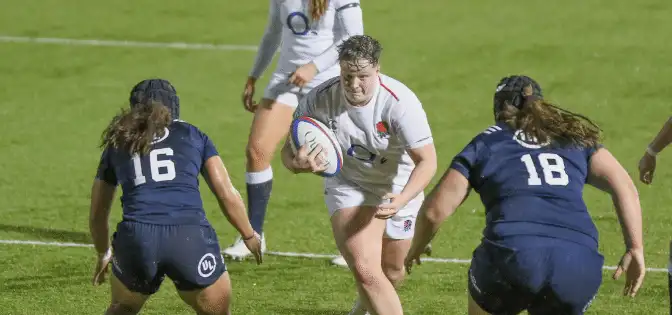 Learning to drive is one thing, but are you clued up on black box insurance? it is one of the most popular types of insurance for new drivers, but it holds a certain stigma. We've made sure to find out the highs and the lows of having a black box by checking in with England International Rugby player Hannah Botterman. Read on to find out why she's opted into a black box policy with Safely Insured.
The price efficiency of a Safely Insured Black Box policy
One of the main appeals of a black box policy is the offer of a discount on your renewal, based on your driving score. It's quite simple: drive safe to pay less. Hannah admitted that being able to bring down the price of her insurance was a main factor for deciding on a Safely Insured Black Box policy. "It allowed me to bring down the price of my insurance considerably, and I'd say definitely made me a better and safer driver because of it. It was a great choice!"
Making you a safer driver
A black box policy is also great for young drivers who want to fight against the stereotype that all new drivers are bad ones. Hannah explains how her black box has encouraged her to improve her driving. "It's definitely made me a safer driver, its ensured I've got no speeding fines and kept me within the speed limits and meant that all in all, I've been a cautious driver that's saved me from other road users quite a few times!"
The bad reputation of black boxes
Black box insurance policies often get a bad reputation because people don't like the idea of being tracked. We made sure to ask Hannah about any downsides of her particular black box insurance policy. She told us - "Apart from giving myself the correct amount of time to get to any given place because you can't - as the saying goes: 'put your foot down', but nothing's difficult about it at all!"
Advice to new drivers
Being a new driver isn't easy. As a learner, it's a lot to take on! Not to mention that dreaded driving test. Hannah explained that she found her driving test to be more nerve racking than playing for England for the very first time! "England was nerve racking but so enjoyable once I was into the game! However, my driving test was nerve racking throughout, and a lot was riding on it, so I'd have to say my driving test!" Once you pass your driving test, a new set of challenges are thrown your way. We asked Hannah what her best piece of advice was for any new drivers out there. "Always be alert to other road users, and driving fast doesn't mean you're super cool, it'll be the opposite if you get a fine or even worse, lose your licence!".
---
Thank you to Hannah for giving a helpful insight into her Safely Insured Black Box policy. If you want the opportunity to prove you're a safe driver, click below to get a quote with Safely Insured! Click here to get a black box quote with Safely Insured If you're still learning, click here to get learner driver insurance. For more tips on staying safe on the roads, or for regular driving test tips, follow us on social media: InsureLearnerDriver Twitter | InsureLearnerDriver Instagram