Learner Driver Insurance: Simplified
Mar 30 2022 9:49AM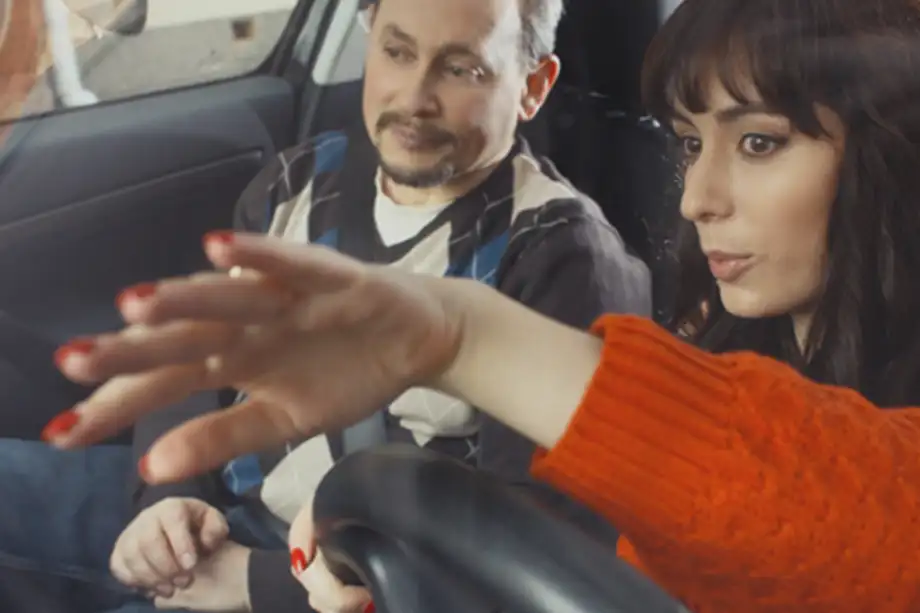 Let's be honest for a moment. Learner driver insurance is not the most interesting topic. We often pass the task over to our parents to deal with when it comes to getting car insurance for the very first time. But here at InsureLearnerDriver, we want to change that. Learning to drive is all about new found freedom; it's time to sort it out by yourself. We've made the process of getting learner driver insurance as simple as possible, but we also understand that the jargon can sometimes become overwhelming. We've broken down the journey to get insured and have helped you out with simplifying a few tricky definitions. Becoming an expert at insurance is not the most desirable trait in the world, but you can't deny it's kind of helpful, right?
What is learner driver insurance & why on earth do I need it?
Car insurance is basically the closest thing we can get to a real life undo button. If there's an accident, then an insurance company is the one who will help you get things back to the way they were before. They do this by offering you and potentially others involved, the compensation to put things right. Comprehensive insurance is the cover you pay for, that protects yourself, other property, and anyone else involved in an accident. It is a legal requirement in the UK to be insured if you're driving on the roads. Even as a learner driver, you'll need it. This is the type of cover we offer to all of our customers at InsureLearnerDriver.
What kind of learner driver insurance policy do I need?
Let's break it down. We offer several different types of policies to suit the different situations learner drivers may find themselves in. Here are a few we provide.
For learner drivers who need to practice in someone else's car.
Learning to drive is expensive, so it's not uncommon to use a borrowed car to practice in. It can be your mum's, dad's, uncle's, auntie's, family friend's, etc. If it's owned by someone else and already insured annually, you can go ahead and take your own top up learner policy out on the same car. If you have an accident the damage repayments are covered on your learner insurance, not the owners. This means that you won't affect the claims history of the owner and any of their previous no claims history. If you want to practice your driving in a borrowed car, you can take out a policy from a day up to 140 days. Also, when it comes to taking out a learner driver policy on a borrowed car, we can get you covered online, immediately, with no hassle. Find out more about borrowed car policies here.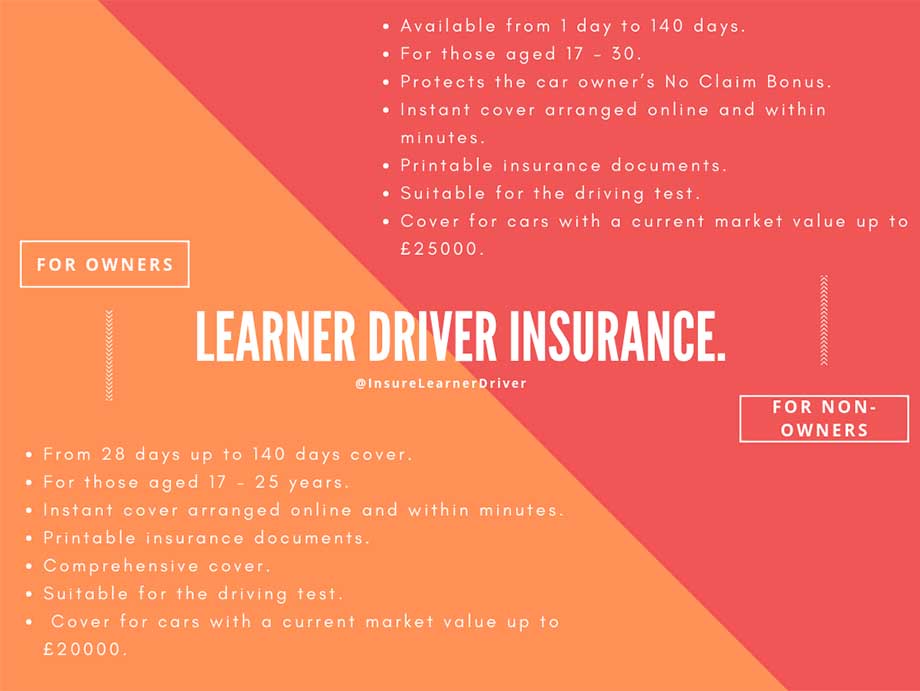 Insurance for Learners who own their own car.
It's not unusual for a learner to already own their own car. Some people are just THAT keen to get on the road and that's understandable. We offer short term policies for those who only need insurance between 28 days to 140 days. We also offer annual policies for those who need learner insurance for an entire year. All owner policies are in the name of the learner driver. Find out more about owner car policies here. Find out more about annual policies here
The process of buying learner driver insurance
So now that you've picked what kind of policy you need, let's go through the process. When filling out the details to get a quote, you need to know:
Your birthday.
The postcode where you currently live.
How long you've held your licence for.
Car registration number (the number plate).
Your preferred excess – (this is the maximum amount of money you'd happy to pay out for on any one claim, before the insurance company steps in to cover the rest of the costs. E.g. You have an accident and the repairs cost £1000. If you have an excess of £300, you'll expected to pay the first £300 for the repairs. The insurance company will cover the other £700.)
After filling out the appropriate details, our clever bots will use those details to generate a price for your cover. One of the best things about InsureLearnerDriver is that you can then purchase your policy online! Print out your documents and you can get on your way.
You're covered!
You've done it! You're free to go out and practice your driving. Remember, no matter what policy you've taken out with us, you need to have someone next to you in the passenger seat. They must be:
A full licence holder
Between 25-72 years of age
Have held a full UK, EEA, or EU driving licence for a minimum of 3 years.
Enjoy!
---
By taking the responsibility to sort your own insurance out and understand it at the same time, you've started the journey the right way. Click here to get a learner insurance quick quote For more tips on staying safe on the roads, or for regular driving test tips, follow us on social media: InsureLearnerDriver Facebook | InsureLearnerDriver Twitter | InsureLearnerDriver Instagram Or if you have any other questions, visit our FAQ page or contact info@insurelearnerdriver.co.uk